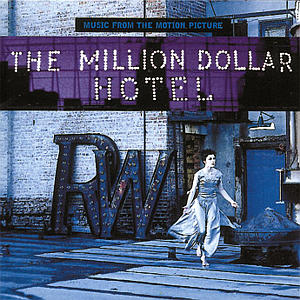 Sortie 13 March 2000
Durée 55'36
Producteur(s) Hall Willner (BO).
Label Island Records
Historique
La fin du millénaire approchant, Bono réalise un projet vieux de treize ans : voir le scénario qu'il a écrit, intitulé The Million Dollar Hotel, réalisé par son ami Wim Wenders, avec Mel Gibson et Milla Jovovich dans les rôles principaux. Le film sort le 24 décembre 1999, et raconte l'univers tranquille de quelques simples d'esprit résidant dans le Million Dollar Hotel, qui va être bouleversé par la mort de l'un d'entre eux. La chanson The Ground Beneath Her Feet, dont les paroles sont signées Salman Rushdie, figure sur la bande originale du film.
Tracklist
01 : The Ground Beneath Her Feet
02 : Never Let Me Go
03 : Stateless
04 : Satellite Of Love
05 : Falling At Your Feet
06 : Tom Tom's Dream
07 : The First Time
08 : Bathtub
09 : The First Time (reprise)
10 : Tom Tom's Room
11 : Funny Face
12 : Dancin' Shoes
13 : Amsterdam Blue
14 : Satellite Of Love (reprise)
15 : Satellite Of Love (Danny Saber Remix)
16 : Anarchy In The USA
Singles
1. The Ground Beneath Her Feet -promo- (Mars 2000)